The taste of senses
THE RESTAURANT
Flagship of the group, the Domaine de Châteauvieux is much more than must-see gourmet restaurant, a reference address for gastronomy lovers.
It is a sensory experience, where the seasonal produce is king. By working the ingredients as close to their nature, structure, and consistency as possible, they can then reveal their aromas, flavours, and originality.
Under the encouragement of Philippe Chevrier and Damien Coche, the restaurant creates and offers an idea of both simple and refined cuisine.
In the restaurant, it is Esteban Valle who will place these dishes before you with flambéing and table-side carving, which he has mastered perfectly.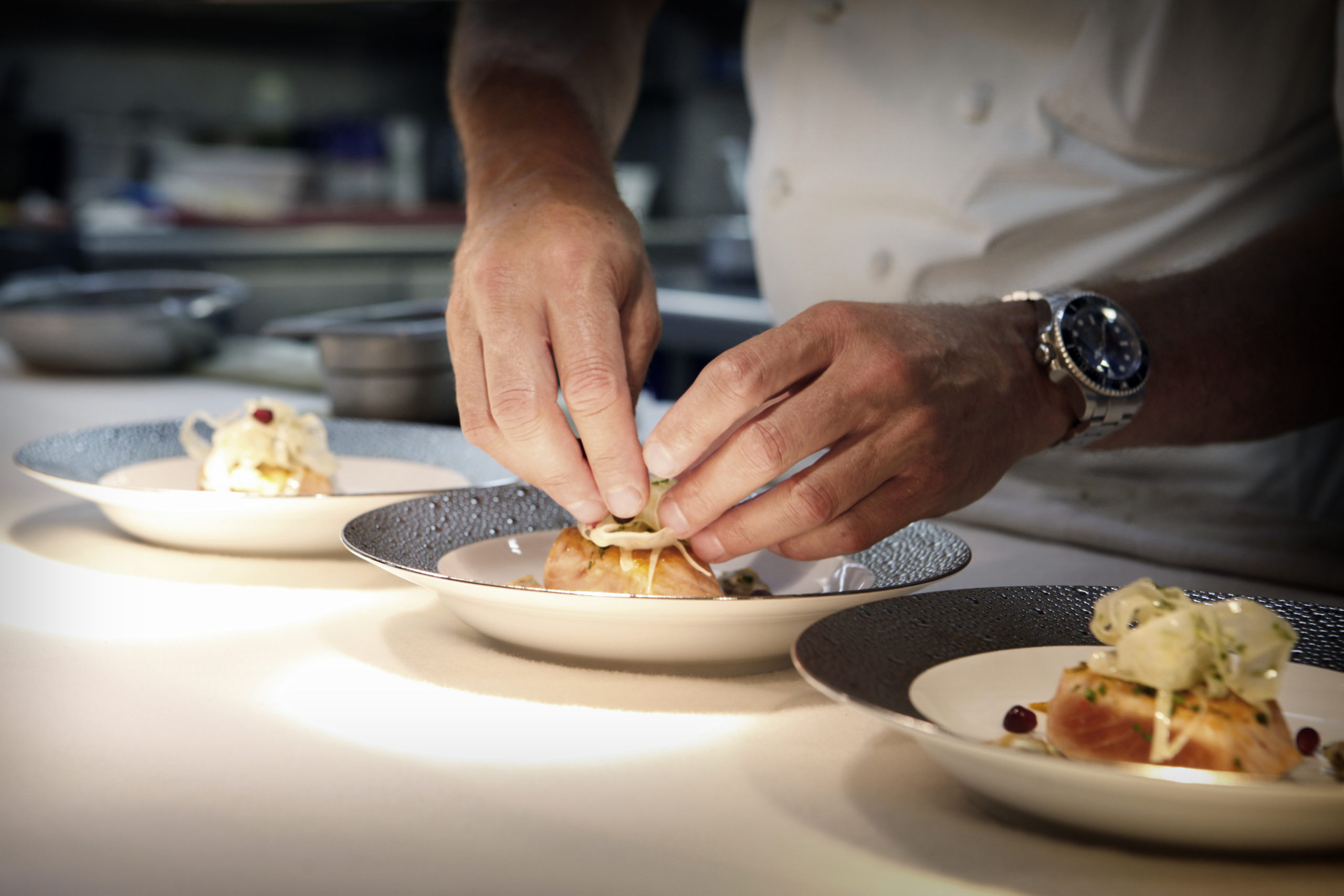 The Menus
Whether it's Gourmet, Fin Bec, Surprise, Morilles, Truffe or Chasse, the different menus are full of recipes which celebrate the flavours of each season. And from your taste buds to your eyes, these flavours are created according to an aesthetic with refined, innovative design.
MARKET MENU
---
Weekly menu available only for lunch from Tuesday to Friday
Week from 19 till 22 September 2023
---
115.-
Ravioli of Breton lobster, cannelloni of zucchini with riccotina,
pine nuts, broth flavoured with tagete
&
Sauteed roe deer fillet, cabbage with bacon,
chanterelles, deep-fried onion, blueberry juice with black pepper,
potato mousseline
&
Selection of fresh and matured Swiss cheeses
&
Apple tart in the tatin manner,
buckwheat foam, cider sorbet
&
SURPRISE MENU
---
Served only for the whole table
With 3 starters, main course, cheese et 2 desserts
---
337.-
This menu is composed according to the season, arrivals, your dietary restrictions and the mood of the chef
&
Pairing with Genevan wine selected by the head wine waiter
105.-
AUTUMN MENU
---
Served only for the whole table, to be chosen among the three proposals
---
210.-
Tartare of dubling bay prawn from the Breton coast
with condiments and « Prunier » caviar, shellfish jelly,
toasted bread with seaweed butter
&
roasted saddle of roebuck deer with spiced caramel
figue and poached pear, gratin of potato
with porcini mushrooms, blueberry juice
&
Selection of fresh and matured Swiss cheeses
&
baked apple in the tatin style
light buckweat mousse, cider sorbet
&
Pairing with Genevan wine selected by the head wine waiter
75.-
---
270.-
Tartare of dubling bay prawn from the Breton coast
with condiments and « Prunier » caviar, shellfish jelly,
toasted bread with seaweed butter
&
john dory cooked over lychee charcoal
ponzu sauce, soya bean sprouts and shitakee with roasted peanuts
&
roasted saddle of roebuck deer with spiced caramel
figue and poached pear, gratin of potato
with porcini mushrooms, blueberry juice
&
Selection of fresh and matured Swiss cheeses
&
baked apple in the tatin style
light buckweat mousse, cider sorbet
&
Pairing with Genevan wine selected by the head wine waiter
90.-
---
340.-
Tartare of dubling bay prawn from the Breton coast
with condiments and « Prunier » caviar, shellfish jelly,
toasted bread with seaweed butter
&
Norwegian scallops
seashells with saffron, bottarga and light cream with anchovies
&
john dory cooked over lychee charcoal
ponzu sauce, soya bean sprouts and shitakee with roasted peanuts
&
roasted saddle of roebuck deer with spiced caramel
figue and poached pear, gratin of potato
with porcini mushrooms, blueberry juice
&
Selection of fresh and matured Swiss cheeses
&
baked apple in the tatin style
light buckweat mousse, cider sorbet
&
Pairing with Genevan wine selected by the head wine waiter
105.-
Starter
---
Cold Starters
Tartare of dubling bay prawn from the Breton coast
with condiments and « Prunier » caviar, shellfish jelly, toasted bread with seaweed butter
96.-
crispy tartlet of norway king crab flakes,
avocado cream with horseradish, grapefruit jelly with cardamom
94.-
Hot Starters
Duo of duck foie gras, terrine and pan-fried,
kent mango chutney and passion fruit with tagetes, warm brioche
86.-
Sauteed frogs' legs, potato mousseline
with black garlic and sun-dried tomato
92.-
Fish and seafood
---
Fish
whole john dory cooked over lychee charcoal,
ponzu sauce, soya bean sprouts and shitakee with roasted peanuts (price per pers., min. 2 people)
110.-
crispy pan-fried fillets of red mullet from les roches noires
(Trouville-sur-mer/Calvados) bouillabaisse of shellfish, light rouille, black garlic and soldiers
90.-
thornback ray wing cooked in the meunier style « gribiche »
tetragon coulis with fried capers and diced pomelo
86.-
Seafood
Breton lobster cooked on a gridle,
green apple and caviar lime with Tasmanian pepper, shell juice
Half : 80.-
MEAT AND POULTRY
---
Meat
roasted saddle of roebuck deer with spiced caramel
figue and poached pear, gratin of potato with porcini mushrooms, blueberry juice (price per pers., min. 2 people)
110.-
roast rack of appenzell lamb
leek tartlet, cherry bell pepper filled with braised shoulder of lamb, strenght piquillo sauce
96.-
pan-fried tenderloin of beef from our mountain pastures
with hazelnut butter, braised oxtrail ravioli with chanterelle mushrooms, light foie gras cream
98.-
Poultry
spit-roasted « mieral » bresse chicken
lemon pepper juice, artichoke hearts and horn of plenty, with black garlic (price per pers., min. 2 people)
130.-
Cheese
---
Selection of fresh and matured Swiss cheeses
45.-